With Google's Performance Max (PMax) about to completely replace Smart Shopping for businesses, many people are curious about how to get started with Performance Max, if there are any pros and cons to be aware of, and whether or not they should hire a PPC agency to run their PMax campaigns.
If you're looking for answers, you've come to the right place.
Advantages of Performance Maximization Campaigns
1. A single Performance Max campaign can have a massive reach
Google's new Performance Max campaigns might help you reach a wider audience without having to build a slew of different campaign types. Ads from your Performance Max campaign will appear on YouTube, Google Display, Google Search, Google Shopping, Google Discover, Gmail, and Google Maps. You can cast a really wide net with just one campaign.
2. Audience signals direct the algorithm
Performance Max campaigns include a wonderful feature where you can use Audience Signals to help steer the automation. By layering in keywords, audience groups, in-market audiences, and URLs where you believe visits to particular competitive/complementary websites will make ideal clients for your products, you can give the algorithm direction. Using Google's machine learning, these new signals will aid in shortening the campaign's ramp-up time and delivering better outcomes more quickly.
3. Performance Max allows you to focus on strategic performance
Performance Max makes creative optimization, campaign planning, and PPC reporting a lot easier. With a multi-campaign strategy, you might have responsive search advertisements, responsive display ads, and more, all with different creative and messaging that you'd have to collect or analyze separately. Performance Max lets you test and evaluate all of these things in one spot, helping you to make strategic marketing decisions faster.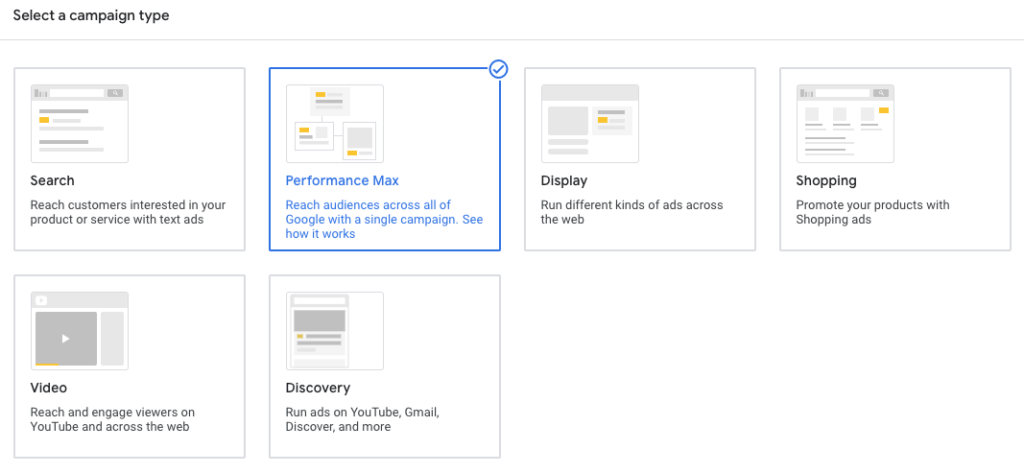 Performance Max Campaigns have a number of drawbacks
1. Data deficit within the PMax asset group
It would be nice to have access to more information about which networks within an Asset Group are doing well. Is it true that Shopping Ads perform better? Is it true that the videos are converting? Is Gmail bringing up sales? We don't have access to that amount of information right now.
Google understands that most marketers want that degree of data and has already begun unlocking additional insight reporting. We're hopeful that as more time passes, more data will become available!
2. No easy ways to add negative keywords to PMax
What if you see phrases in the Insights section that you don't want to activate your ads? What if you want to avoid cannibalism of your branded phrases, or if Google doesn't seem to comprehend who should view your ads? There isn't an easy method to handle it.
If you have a Google Ads representative, you may create a Negative Keyword List and have them add it to your campaign, but you'll need to repeat this process for every PMax campaign you run. If that weren't troublesome enough, you're out of luck entirely if you don't have a Google Rep.
3. Performance Max lacks search term data
Another disadvantage is that within the PMax campaigns, we can't access keyword/search term level data. It's a bit of a black box, and we're putting more faith in Google's algorithm to deliver relevant Ad traffic to the right people. The Insights page provides some information, but it would be nice to see more.
---
Pros & Cons of Performance Max Campaigns – Our Final Thoughts
Long term, we hope that Performance Max campaigns will enable us all to benefit from additional advancements in automation, allowing us to deliver the best of Google reach and performance at scale.
If you'd to discuss the benefits running Performance Max campaigns can do for your business, step into our kitchen and schedule a one-on-one with our CEO & Founder, Jared Foxworthy!

To apply for a complimentary PPC audit, contact us today!
Did you enjoy this article?
Here are two more posts to read next: