Google Analytics 4 (GA4) is an entirely new method of tracking consumers across websites and applications that will soon become the standard and only choice. GA4 is a completely standalone platform and is not simply an update to the existing Universal Analytics (UA).
As UA is set to be retired on July 1, 2023, we have a little less than a year to research and understand the new features and benefits GA4 brings to the table.
Read below to learn some key features and shortcomings to be aware of in order to be ready for this impending transition.
The motivation behind creating GA4
Google is positioning itself as a one-stop user tracking shop with its wealth of data from Chrome browsers, in-app and on-site tracking, and mountains of first-party user data as a result of new privacy regulations that are currently shaking the marketing industry as a result of the gradual loss of third-party cookies.
The time has come for reporting and analysis to reflect customers' flexible behaviour as they access a brand's website or app on a variety of different devices and across a variety of browsers at various stages of their journey, as tracking multiple web or app sessions is no longer sufficient to gain insight into user behaviour.
What distinguishes Google Analytics 4 from Universal Analytics?
GA4 fundamentally alters Google's tracking strategy. Google Analytics 4 is event-based, with the guiding idea that all interactions may be recorded as an event across all web and app visits, in contrast to Universal Analytics, which focused on tracking several hit kinds, including page, event, eCommerce, and social.
This allows for simple yet very configurable data configuration and enables Google Analytics to generate a very different set of reports that are more user-centric rather than session-and-hit-focused.

Anticipated Google Analytics 4 features
Even while businesses will be able to go into their GA4 reporting interface and see Google Analytics' general style, the reports and the setup and settings on the back end will be different.
Claims have been made regarding GA4 that, taken out of context, are likely to cause fear or frustration, but let's not overlook the significant upgrades, as there are a number of exciting GA4 developments including:
Businesses will be able to track events by simply enabling them in the settings when setting up a GA4 property. Previously, event tracking needed Google Tag Manager or hard-coded tags. With just the click of a button in the GA4 Settings, anyone can set up thorough event reporting. Scroll tracking, outbound clicks, site searches, video interaction, and file downloads are some of the options for automated events.
The most startling feature of GA4 is how uniquely diverse each report is; this will take some getting used to. There are lots of improved reports based on users, even though many Universal Analytics reports won't be seen in the new GA4 interface. A new set of Customer Lifecycle reports, including Acquisition, Engagement, Monetization, and Retention, as well as improved funnel analysis reports, segment overlap reports, user lifetime data, and more are included.
A number of new engagement indicators, such as engaged sessions, engaged sessions per user, engagement rate, and engagement time, are included in GA4 reports to track user engagements. With GA4, marketers will be able to measure user behaviour more insightfully and actually determine which site content is most appealing to users.
The Category/Action/Label taxonomy has been replaced by an event-based data model. With GA4, tracking is more flexible and event-neutral, allowing each event to have any custom attributes attached, enabling organizations to track their data in more granular and insightful ways.
Custom parameters are fully accessible in event tracking with GA4. It provides a choice of Automated Events, Recommended Events, and Custom Events for anything missing, with the option to define your own set of event parameters along with it. This gives companies a new way to monitor the KPIs and actions they care about most.
Google uses a single event-tracking schema across app and web, cross-device Signals tracking, a sizable cache of Chrome / Google first-party data, and other techniques to give businesses a thorough understanding of user activity across any tracked app or site. GA4 gives marketers a significantly more accurate user count and performs user de-duplication across devices far better than Universal Analytics. This will be a significant advantage for brands as multi-touch attribution and increased user tracking becomes more crucial.
The features still missing from Google Analytics 4
The deployment of Google Analytics 4 has brought about a lot of improvements, but before you decide to start measuring every page of your site with this new platform, it's crucial to understand what functionality is still in the works. It could be a mistake for companies to completely switch over until GA4 resolves issues. Here is a list of things we believe GA4 is lacking:
Multi-touch attribution reports are still missing from GA4. Based on the modified GA4 event structure, it appears that they are still developing the conversion reporting and attribution modelling capabilities.
Ecommerce reports in GA4 appear to contain far less data and information than those in Universal Analytics at the moment. This is unexpected given that Google is attempting to convert businesses while omitting a crucial set of reporting features. These capabilities will undoubtedly increase as Google keeps adding features, but for now, if your company depends on thorough eCommerce statistics, you shouldn't rely entirely on GA4.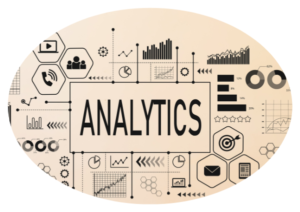 How to get ready for Google Analytics 4
When it comes to the acceptance and use of GA4 by businesses, it is still comparatively early. The current state of GA4 might not be what we get when UA is turned off next year as Google is extremely likely to continue to develop the features included. The following are some things you should do as soon as you can in preparation, as it is never too early to start preparing for these changes:
Choose the data to view, no matter how detailed, based on what is most crucial for your company to report on. Consider what additional is necessary while referring to the events that Google automatically collects and the events from Enhanced Measurement. This will guide your decision regarding which reports to create and how to go about event tracking.
Create a GA4 property in the same account as your UA property and explore its capabilities and reports even before the technical aspects are configured as you'lll need to become comfortable with the new language and interfaces.
Start gathering data soon if you want to perform year-over-year comparisons on GA4.
Don't forget to export your data from your Universal Analytics property. You'll have six months to do so before it becomes inaccessible.
When should you make the switch to GA4?
Although it isn't yet time to switch over to Google Analytics 4 for reporting entirely, it is the right time to set up your GA4 property so that it can begin collecting data alongside your current Google Analytics web domains. When Universal Analytics stops tracking web hits in July 2023, this will help marketers position themselves for success. By starting the transition now, you'll have plenty of historical data to get you started and will be well-prepared to successfully convert to GA4.
We all still have a lot to learn, but there has never been a better time to begin laying the groundwork for this major upgrade.
---
6 Exciting Google Analytics 4 Features – Our Final Thoughts
When compared to Universal Analytics, the transition to GA4 brings a number of changes to how we collect and view data. It's in your company's best interest to get the GA4 property up and running, capture user data across their devices, and begin to understand event tracking as Google continues to develop its eCommerce reporting, attribution modeling, and other updates that haven't yet been made public.
If you'd like to discuss the benefits of transitioning to GA4, step into our kitchen and schedule a one-on-one with our CEO & Founder, Jared Foxworthy!
Need more guidance with Google Analytics 4? Check out this Getting Started with Google Analytics 4 video from Google Analytics!
To apply for a complimentary digital audit, contact us today!
Did you enjoy this article?
Here are two more posts to read next: