When small businesses first start out, they frequently concentrate on finding ways to bring in their first clients. They might rely on conventional advertising strategies, such as print ads, coupon mailers, or even outdoor advertising. Businesses may think that because they provide a high-quality good or service, customers would eventually find them.
There is a better and simpler way. Small businesses might benefit from combining their traditional and digital marketing by taking into account the global marketplace of potential customers online. No small business, regardless of how new, should disregard digital media as a means of generating leads and turning them into consumers.
Let's examine the advantages of digital marketing and the strategies for using online platforms to expand your organization.
Identify your digital marketing objectives
Since your strategy will be different depending on your goals when you first start out with digital marketing, it's crucial to identify and define your goals first. For instance, you might want to focus more on reaching out to new audiences via social media if your objective is to raise brand awareness.
If, on the other hand, you want to boost sales of a certain product, it's more crucial that you concentrate on SEO and content optimization to attract visitors to your website in the first place. In addition, you may test out PPC campaigns to use sponsored advertisements to generate traffic if making sales is your goal.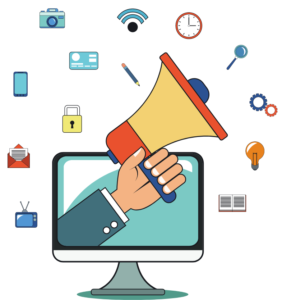 Determine a spending limit for every digital channel
The good news is that you don't need much of a budget at all if you're concentrating on inbound strategies for an already-existing website, such as SEO, social networking, and content production. The basic goal of inbound marketing is to attract customers by producing high-quality content that they want to read.
Hosting a website and creating content are two ways to get started. There is some cost associated with outbound strategies like web advertising, but what it costs ultimately depends on the level of visibility you hope to get through the advertisement.
For instance, if you use Google Ads to execute PPC, you'll compete against other businesses in your sector to show up at the top of Google's search results for keywords related to your company. This might be either reasonable or incredibly expensive depending on how competitive your category is, so it makes sense to concentrate on increasing your organic reach as well.
You need a target market for your digital marketing strategy to be effective
One of the biggest advantages of digital marketing is the chance to target certain audiences. However, you can't take advantage of that advantage if you haven't first determined who your target audience is.
It's vital to keep in mind that your target audience may change depending on the distribution method or goals you choose for a certain product or campaign.
Create engaging, mobile-friendly content
It's time to start producing content for the various channels you'll be using once you've determined your target demographic and your spending limit. This content may take the form of updates on social media, blog articles, PPC ads, email newsletters, and more.
Mobile marketing is another essential element of digital marketing. This means it's crucial to optimize all of your digital content for mobile, including your ads, websites, and digital assets.
Mobile users should enjoy the same good online interaction with your business that desktop users do. To make browsing on mobile devices user-friendly entails developing a mobile-friendly or responsive website design. When generating social media photographs, it's crucial to keep in mind that mobile users will be viewing them because the size of the images on their devices is smaller and text may be obscured.
There are several ways to optimize your digital marketing materials for mobile consumers, and it's crucial to take mobile compatibility into account when adopting any digital marketing strategy. By keeping this in the forefront of your mind, you'll design digital experiences that resonate with your audience and ultimately provide the outcomes you want.
Since the goal of marketing content is to improve lead generation and raise brand awareness, it goes without saying that any material you produce should be intriguing and engaging for your target audience.
Perform a keyword analysis
For your website and content to be SEO-optimized and to guarantee that customers can find your company on search engines, keyword research is essential. Furthermore, social media keyword research can be useful for promoting your goods or services on different social media platforms.
Even without a full-time SEO expert, you should still perform keyword research. Make a list of effective keywords related to your goods or services and take into account long-tail variations for more prospects.
Make revisions to your digital marketing strategy based on the data you collect
Finally, it's critical that your team learns how to pivot based on data if you want to develop a successful digital marketing plan for the long run.
For instance, you may discover after a few months that your audience is still engaged with your material on Instagram but less so on an older web page. If you want to make sure that visitors are finding the most recent, pertinent information for their needs, you can think about upgrading the page or completely removing it.
---
Getting Started with Digital Marketing – Our Final Thoughts
You are probably already reaching some of your audience online if you are already using digital marketing. But there are undoubtedly certain aspects of your plan that may be made a little better—take advantage of the incredibly flexible prospects for continual growth that digital marketing can provide.
If you'd like to discuss the benefits of working with a top digital marketing agency, step into our kitchen and schedule a one-on-one with our CEO & Founder, Jared Foxworthy!
You're ready to get your business online, but still looking for a place to start? Watch this Google Ads crash course from WordStream!
To apply for a complimentary digital audit, contact us today!
Did you enjoy this article?
Here are two more posts to read next: