If you've never set up or managed a PPC campaign before, the entire procedure might be overwhelming and time-consuming. Even worse, you can spend a lot of money advertising to the incorrect demographic without ever making a sale or converting a single lead.
Running a few ads is not enough to make an advertising campaign successful. Do you have the correct audience in mind? What occurs once a user clicks on an advertisement? Is the conversion rate on your website optimized? Have you put up customized landing pages for particular ad campaigns? There is much to learn and do. That's why you should work with a PPC Agency to handle your Google Ads.
Keep reading for five reasons to engage a PPC agency to handle your advertising.
Do you have time to stay up-to-date on industry shifts and emerging tech? PPC Agencies do
Platforms for paid advertising are always evolving and changing. For instance, Google frequently introduces fresh advertising services and capabilities. In order to address privacy concerns, audience targeting capabilities, and emerging technologies, Facebook and Instagram are continually updating their advertising goods and policies.
Paid advertising always experiences new advancements, necessitating the development of fresh strategies and methods to capitalize on them. New technologies and ad formats are constantly replacing older ones, rendering them obsolete.
For business owners or in-house marketing teams with limited experience, time, and resources, keeping up with these constant changes while also carrying out the fundamental daily tasks of PPC ad management can be challenging.
Work with a PPC Agency for recommendations, strategy, and insight
Agencies have the knowledge and experience to examine reports in addition to giving them in detail. They analyze the data and clearly explain what it means for your company. The top PPC agencies can also translate complicated concepts and trends into language you can understand.
Our team of digital marketing specialists regularly evaluates the effectiveness of your ads, enabling us to provide your company with the knowledge and suggestions required to make wise marketing choices. Data analysis combined with expertise results in an incredibly high ROI.
An effective PPC agency will increase your ROI
When you engage a PPC agency, they prioritize your campaigns throughout the day. They are aware of all the hacks and techniques that guarantee your ads are set up to guarantee the maximum click-through rate with the least amount of money spent on advertising.
There isn't a single reason why you or one of your staff members can't manage a PPC marketing campaign; it's not complicated. But making the most of your advertising spend requires a lot of expertise and experience.
Work with a PPC agency to give your ad accounts the attention they deserve
The majority of business owners and internal marketing teams just lack the time needed to maintain PPC advertising accounts properly. To achieve any form of genuine success, you must have a workable marketing strategy, properly design and set up the advertising and keywords, and ongoing campaign optimization.
When you partner with a Toronto PPC agency, they have the resources and experience to provide your accounts the individualized attention required to guarantee the maximum ROI.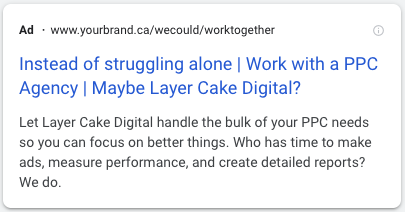 A PPC agency provides regular in-depth analysis and reporting
Analyzing results and modifying campaigns as necessary is a critical component of PPC ad management. As it entails combining data from numerous platforms and sources, such as Google Ads, Google Analytics, Google Search Console, Google My Business, social network accounts, and other services used to market your business, producing detailed reports is a labour-intensive procedure.
As part of our Build layer, we build interactive dashboard visualizations against KPI and data stories which provides real-time data when it matters most. We also provide ongoing strategic analysis and recommendations based on performance, always focused on your bottom line and being mindful of ways to harmonize with other digital channels as part of an omnichannel strategy.
---
Working with a PPC Agency – Our Final Thoughts
We may be biased – after all, we are a Toronto PPC Agency – but that doesn't make us wrong. Working with a PPC agency is a far more efficient use of budget than expecting an intern to handle it successfully. It's not just the reporting, efficiency, ROI; working with a PPC agency also comes with informed recommendations, subject matter expertise, and confidence.
If you'd to discuss the benefits of working with a dedicated PPC agency, step into our kitchen and schedule a one-on-one with our CEO & Founder, Jared Foxworthy!
To apply for a complimentary PPC audit, contact us today!
Did you enjoy this article?
Here are two more posts to read next: